Course Glossary
This shows the specialized terms used in EarthWise Academy. This section contains all the definitions used in the various course glossaries used by each course.
Currently sorted By last update ascending
Sort chronologically:
By last update

change to descending
|
By creation date
---
Oxidant
A substance that readily adds (takes on) electrons.

(DBP01) DBP Rule – Overview (1282)

A substance that is used as an oxidizing agent, which causes a substance to lose electrons, changing its chemical nature.
Oxidation
The addition of oxygen, removal of hydrogen, or the removal of electrons from an element of compound. With respect to water treatment, organic matter is oxidized to more stable substances.
(BNR01) Nitrification and Denitrification – An Introduction to Nitrogen Removal (1485)
(BIO10) Estimating Sludge Volume (2343)
Ozonation
The application of ozone to water for disinfection or for taste and odor control.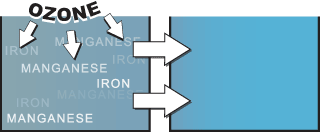 D Sample
Sample collected from the distribution system.
(DBP02) DBP Rule Monitoring and Reporting – Job Aids (1283)
(DBP10) DBP Rule Monitoring and Reporting for Chlorine⁄Chloramines (1284)
(DBP13) DBP Rule Monitoring and Reporting for TTHM⁄HAA5 (1285)
(DBP14) DBP Rule Violations for Pa. PWSs using Chorine⁄Chloramines (1825)
(DBP15) DBP Rule – Maintaining Compliance for Pa. PWSs using Chlorine/Chloramines (1570)
---